Georgia Trucking Accident Lawyers
Injured in a truck crash? We can help
The help you need from the Georgia truck accident attorneys you trust.
Getting into a truck accident can be devastating. Not only do 18-wheelers and commercial trucks weigh several tons more than the average passenger car, but there are a number of parties who could be liable for the crash. This makes filing a claim after a truck accident complicated. You don't want to go it alone.
At Harris Lowry Manton LLP, our Georgia truck accident attorneys fight for victims and their families after a wreck changes everything. We have recovered millions of dollars on behalf of truck injury victims throughout the state and have the resources to handle complex litigation against those who caused you harm. We want to help.
"This firm is awesome. They are very caring and very focused. They made a difficult time much easier. I would recommend them to anyone in need of a great law firm."
- Tessia Perkey
We want to help.
We know how to follow the facts to determine who is at fault. At Harris Lowry Manton LLP, we conduct in-depth investigations, interview witnesses, and can bring in experts to support your case and to help you get the justice you deserve.
DID YOU KNOW?
Harris Lowry Manton LLP has been honored as the Georgia Legal Awards Litigation Department of the Year and is the only Georgia law firm to secure #1 verdicts in seven different categories.
$11,500,000
Child Born With Brain Damage from Truck Accident
$6,100,000
Wrongful Death from Heavy Truck Accident
$4,950,000
Wrongful Death in Tractor Trailer Wreck
$3,000,000
Wrongful Death in Trucking Accident
$2,500,000
Burn Injuries from Commercial Vehicle Accident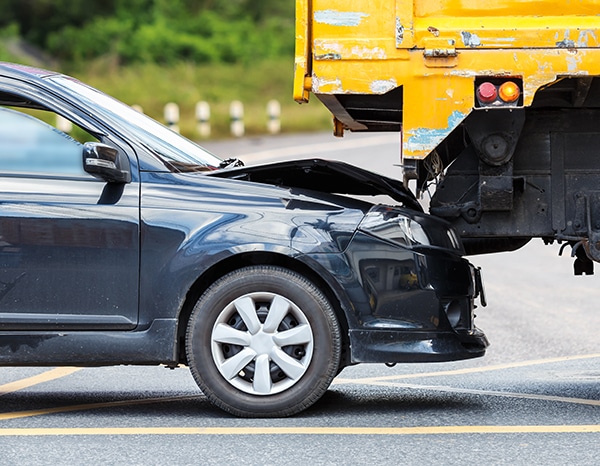 Do I really need a truck accident lawyer?
Truck accident claims have a lot of moving parts – and trucking companies have experienced attorneys on their side. You need a lawyer who can fight for justice for you, so you can focus on getting well.
How much will a Georgia truck accident lawyer cost?
Absolutely nothing.
Our attorneys take truck accident cases on contingency. That means that we only get paid after we win your case. There are no up-front fees and no hidden costs. Even the initial consultation is free. You don't pay anything out of pocket for our services.
How soon should I call?
As soon as you can. In Georgia, truck accident victims only have two years to file a lawsuit. The sooner we can get started on your case, the closer you are to getting the help you need.
Why should I call Harris Lowry Manton after a truck accident?
There are a lot of firms out there that just want to settle your case fast, even if that's not what's best for you. Harris Lowry Manton LLP doesn't pressure clients into accepting an unfair settlement. We have the skills, resources, and experience to take your case to trial, and to keep on fighting for you to the end.
Don't wait another day to get the help you need.
Call the Georgia truck accident attorneys of Harris Lowry Manton LLP today.