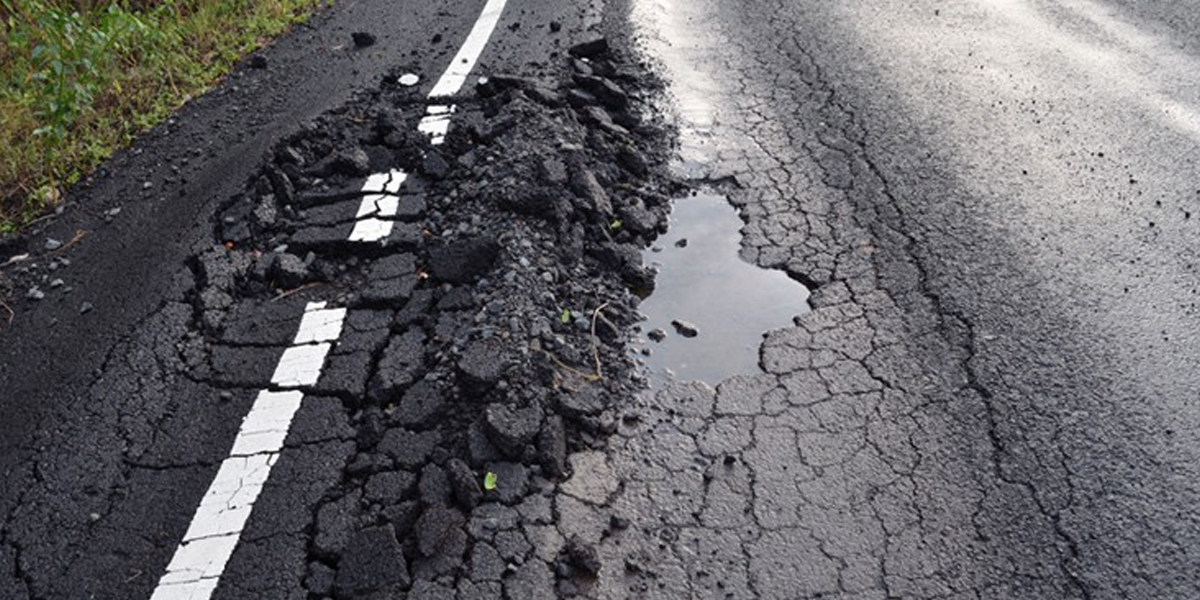 Georgia Injury Lawyers Handling Road Defect Claims
Aggressive representation for car, truck, and motorcycle accident victims
There are a lot of roads in Georgia that are dangerous because of their bumper-to-bumper traffic, like I-285. Poor design and roadway maintenance, coupled with a large number of storms over the last decade, have also left a lot of our highways in poor condition – and the rural roads are far worse. If you were injured in a car accident resulting from road defects, Harris Lowry Manton LLP may be able to help. Please contact our injury attorneys in Atlanta or Savannah to learn more about your options.
Examples of road defects
Road defects encompass any problems that contribute to the overall failure of a roadway. These failures can affect drivers' safety, and/or the integrity of the road itself. Some of the more common road defects can include:
Structural problems
Potholes
Sinkholes
Road depressions (sometimes called "bird baths")
Cracking throughout the asphalt
Separation of the materials in the pavement, resulting in an eroded surface
Drainage problems
Uncleared debris littering the road
Uneven pavement, sometimes as the result of unfinished milling
Missing or faded lines
Design and maintenance related problems
Overgrown vegetation
Missing signs
Broken or malfunctioning lights
Broken or missing guardrails
Poorly configured intersections
These problems are not unique to Georgia. In 2017, the American Society of Civil Engineers (ASCE) created an "infrastructure report card" for the country. In the category of "roads," the country earned a D: "America's roads are often crowded, frequently in poor condition, chronically underfunded, and are becoming more dangerous. More than two out of every five miles of America's urban interstates are congested and traffic delays cost the country $160 billion in wasted time and fuel."
Georgia is slightly ahead of the curve
Per the ASCE, Georgia scores slightly higher than the national average, earning a C+ in the road category. The organization's reasoning was based on a significant increase in funding through the Transportation Funding Act, and the Georgia Department of Transportation's use of "innovative materials, design and delivery methods to decrease construction time and cost and reduce inconvenience to drivers."
In 2019, U.S. News & World Report issued its third "Best States" rankings, based on a number of factors. One of those factors was infrastructure. While Georgia scored well overall, the report stated that "An unrelenting suburban sprawl and a public transportation system unable to keep up with it have left [Atlanta] riddled with traffic."
The truth is, all of these extra cars are taking a toll on roads that already needed extra attention.
Fact: The Atlanta Department of Public Works fixed more than 13,000 potholes in 2018 alone.
Who is liable if you are injured because of a road defect?
Road defect cases can be complicated in Georgia, because roads area almost always maintained by government entities. As such, you will likely have to file a lawsuit against the city, county, state or federal government.
Time limits for government claims
There are exceptions to every rule, but generally speaking, the time limits for government claims are:
Claims against the city or county government: 6 months
Claims against the state of Georgia: one year
Claims against the federal government: 2 years
Sovereign immunity exemptions in road design claims
Under the Georgia Tort Claims Act, the state cannot be held liable for road defect claims if "[t]he plan or design for construction of or improvement to highways, roads, streets, bridges, or other public works where such plan or design is prepared in substantial compliance with generally accepted engineering or design standards in effect at the time of preparation of the plan or design." GA Code § 50-21-24(10).
In other words, in order to show that the road design was flawed (and that the state should be liable), you may need to prove that there have been other problems with this particular road, and that the government did know, or should have known, about them. In this scenario, because the government is responsible for the maintenance of the roads, you could make a claim that Georgia was negligent in its duties.
You may also be able to make a claim for failure to warn about potential defects or conditions, such as icy roadways, or low visibility because of fog.
Other liable parties
In some cases, there may be multiple negligent parties in road defect cases including:
The driver of the other vehicle
The manufacturer of the asphalt
The owner/manager of the road (if privately owned)
The manufacturer of a defective auto part (if that part caused the collision or accident which was then worsened by a road defect)
Why you need an experienced attorney for your road defect claim
If you sustained injuries in a collision on a poorly maintained road, you want a knowledgeable attorney on your side. At Harris Lowry Manton LLP, we have experience handling claims against government entities, and have secured millions of dollars in verdicts and settlements on behalf of our clients. Our attorneys will investigate the scene of your accident, review records of prior accidents that have occurred on that roadway, and work with engineers and other outside experts to show that your crash and your injuries may have been avoided if the road had been properly maintained. We also work with your doctors to show the full extent of your injuries to a jury.
The help you need after a crash on a dangerous road in Georgia
The Atlanta and Savannah car accident lawyers at Harris Lowry Manton LLP handle complex litigation on behalf of injured clients throughout the state. If you were hurt in a crash or on a dangerous road, or if you sustained losses because of road defects, we want to help. For aggressive and thorough representation, please call us at 404-961-7650 in Atlanta and 912-651-9967 in Savannah. You can also complete our contact form. Your first consultation is free.