BMW Recalls More Than One Million Cars Because of Electrical Fire Danger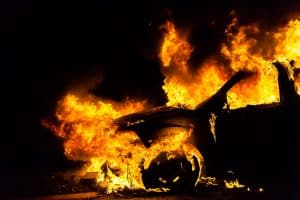 Car and Driver reports that BMW is recalling more than a million vehicles because of the potential for electrical fires. There are two different problems, leading to two different recalls:
"740,561 cars [are being recalled for] a positive crankcase ventilation valve heater that can short, melt, and ignite. Also known as a blow-by heater, it prevents ice from forming when treating the hot, combusted gas venting from the crankcase….
Another 672,775 cars have potentially faulty wiring harnesses that control the heating, ventilation, and air conditioning fan speed. The pins connecting various wires could corrode, which could cause a short and melt the wiring, especially if the driver switches the fan speed to its highest setting."
Both defective parts were initially reported in 2007, but BMW decided they were not significant enough threats to warrant a recall before now. So far, no statement has been forthcoming as to whether or not the recalled cars can be linked to an investigation by ABC News in May, regarding parked BMW vehicles that spontaneously combusted.
Which models are being recalled?
All of the cars being recalled for the defective valve heater are gasoline non-turbocharged six-cylinder cars, years 2007–2011. The models are:
328i
525i
528i
530i
X3
X5
Z4
The recall also includes the 128i, years 2008­–2011. The recall includes vehicles of all variants, per Car and Driver: "rear- and all-wheel-drive powertrains in coupe, convertible, and station-wagon models."
Cars being recalled for the faulty wiring include "all E90 3-series models sold from 2006 to 2011," the diesel 335d and M3.
Replacement parts are scheduled to be available in December. If you drive one of the affected cars, you can take your vehicle to your BMW dealership for a full replacement at no cost to you. If you are unsure whether your car might be affected, you can enter your VIN here, and it will tell you if your vehicle is being recalled. This service, care of the National Highway Traffic Safety Administration, is free and available to all car and truck owners.
Vehicle fires can lead to serious burn injuries in the car and in the home
While there have been no reported injuries associated with the BMW recall yet – ABC News reports "A spokesman for the German automaker says the risk of fire is very low in both cases, but the vehicles should stay outside 'in an abundance of caution'" – drivers and passengers should still be aware of the dangers, especially if they park their cars in a garage. A vehicle fire can swiftly lead to a house fire, leading not only to significant property losses, but also to severe burn injuries. Victims and their families may be entitled to compensation for these injuries and property damage.
According to Car and Driver, "BMW said it first discovered the issue in 2007 and changed the pin coating from tin to silver on the production line starting in May 2011. However, it has not issued a formal recall until now, despite multiple reports of 'heat-related damage' and owner complaints to NHTSA."
Harris Lowry Manton LLP handles complex defective product claims for clients throughout Georgia. Our team of attorneys is equipped to uphold your rights if you sustain a catastrophic injury or severe burn because of someone else's negligence. To learn more, or to schedule a free consultation, please call our office in Atlanta at 404-961-7650, in Savannah at 912-651-9967, or fill out our contact form.
Catastrophic Injury Related Articles
Harris Lowry Manton LLP is a dedicated full-service trial law firm. Our Georgia personal injury lawyers fight for the injured throughout every step of the legal process. We explain how litigation works from the moment you come into one of our offices in Atlanta or Savannah until your case is solved. Our legal team has achieved remarkable success because we leave no stone unturned when investigating our client' claims and what should have been done to prevent their injuries. We file claims against all responsible parties — not just the most obvious one.
Read more about Harris Lowry Manton LLP.