Congratulations, Melissa Davies, on Being Selected as Harris Lowry Manton's 2019 Scholarship Winner!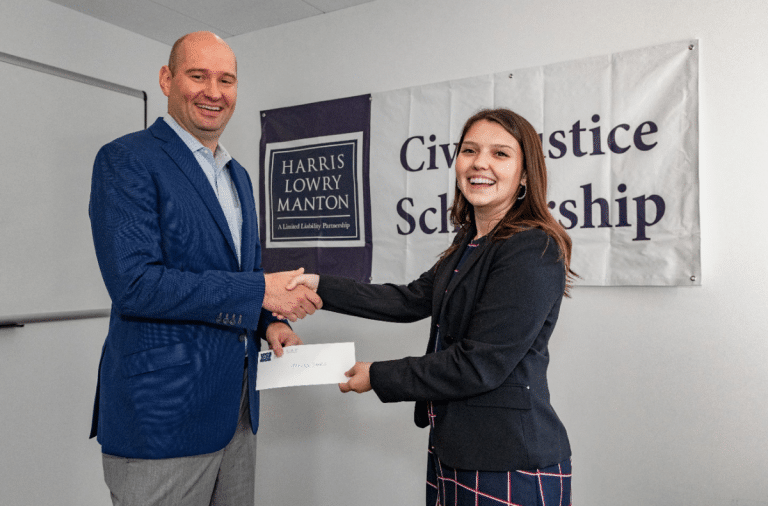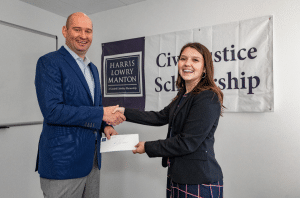 Harris Lowry Manton LLP is pleased to announce that Georgia State University law school student Melissa Davies has been awarded the 2019 Harris Lowry Manton LLP Civil Justice Scholarship. On September 20, firm partner Jed Manton presented Davies, a first-year law school student, with a check for $5,000 at the firm's Atlanta office to help her on her path to earning her law degree.
A first-generation college student, Melissa Davies was born and raised in Smyrna, Ga. and attended the University of Georgia, where she double-majored in International Relations and Political Science. Her interest in the court system inspired her to assist in misdemeanor drug court in Clarke County, under Judge Charles E. Auslander, III. In time, the drug court created an intern position, and Davies was a natural fit. She later worked in Judge Auslander's State Court Office and was eventually recruited to work in the Solicitor-General's Office, filling a position for an employee on an extended absence. After that, she worked in the Municipal Court.
Davies worked in the courts while attending school full-time and participating in pop-up legal clinics. Her success in finding projects was so well-known, she was asked by her undergraduate professor to talk to the class about her process, so that they, too, could gain insight into how to find the right opportunities for them.
Melissa Davies exemplifies the type of student that the annual Harris Lowry Manton LLP Civil Justice Scholarship aims to help – ambitious, passionate and creative. The study and practice of law requires an in-depth understanding of how the court systems work and often involves finding new ways to present information to a jury that will help jurors understand exactly what is at stake for a plaintiff or a defendant.
In the United States, a trial by jury is not only a Constitutional right, but also a foundational cornerstone of democracy. As Davies told us in her application essay, "Jury trials often times allow citizens a hand in governing and educating themselves about our justice system."
We couldn't agree more.
We hope you will join us in congratulating Melissa Davies on her selection as the 2019 winner of the Annual Harris Lowry Manton LLP Civil Justice Scholarship. We expect great things from this young lawyer in the future.
Harris Lowry Manton LLP invites you to learn more about our annual scholarship. The firm is currently accepting applications for 2020.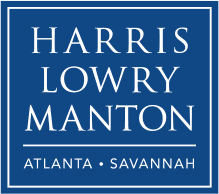 Harris Lowry Manton LLP is a dedicated full-service trial law firm. Our Georgia personal injury lawyers fight for the injured throughout every step of the legal process. We explain how litigation works from the moment you come into one of our offices in Atlanta or Savannah until your case is solved. Our legal team has achieved remarkable success because we leave no stone unturned when investigating our client' claims and what should have been done to prevent their injuries. We file claims against all responsible parties — not just the most obvious one.
Read more about Harris Lowry Manton LLP.