New Push in Congress for Sideguard Installations on Tractor-Trailers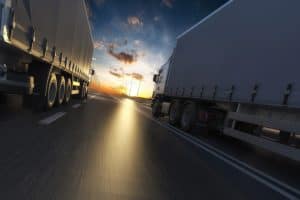 One of the most devastating types of crashes on the roadways occurs when a car collides into the side of a tractor-trailer. Many times, following impact, the top of the car itself will be sheared off as the car slides underneath the trailer. Often, the occupants suffer extremely serious injuries, including decapitation.
In 2014, the National Transportation Safety Board (NTSB) initially recommended side underride guards for tractor-trailers in order to prevent these types of catastrophic accidents. However, Congressional action has been unable to pass legislation requiring underride guards at this point.
Stop Underrides Act
Introduced in 2017 by Sen. Kirsten Gillibrand (D-NY) and co-sponsored by Sen. Marco Rubio (R-FL), the Stop Underrides Act would require front and side guards on large trucks and also improve the requirements for rear underride guards. The legislation would protect passenger vehicles and their occupants from incurring the devastating injuries described above.
Senator Gillibrand told NBC News, "There is a massive safety design flaw that makes collisions between cars and trucks much deadlier than they need to be. This bipartisan legislation would save lives."
IIHS Test Results
A 2012 study conducted by IIHS discovered a far-reaching benefit of well-constructed side underride guards. It showed that these guards have the potential to reduce the risk for injury in close to 75 percent of large truck side crashes that include a serious injury or fatality to occupants of passenger vehicles. When evaluating crashes with semi-trailers alone, the proportion increases to nearly 90 percent.
In 2017, the Insurance Institute for Highway Safety (IHS) conducted testing that demonstrated the potential lifesaving benefits that side impact guards on tractor-trailers provide. The test results include a video of a test dummy's decapitation as the top of the car impacting the trailer at 35 mph is sheared off.
The first tests involved an AngelWing side underride guard installed from Airflow Deflector Inc. and another test with the side fiberglass skirt installed for aerodynamic purposes only. Each test consisted of a midsize car striking the center of the 53-foot-long dry van trailer. The second test involving the fiberglass skirt resulted in a devastating impact that sheared off a portion of the sedan's roof, with the car itself becoming wedged underneath the trailer. If the vehicle to truck crash had occurred in the real world, the occupants would have likely suffered fatal injuries.
The AngelWing device in the first test did not allow the car to pass underneath the trailer. The impact, which only inflicted damage to the front of the vehicle as well as the underride guard itself, allowed the vehicle safety systems (i.e. airbags and safety belt) to function properly and restrain the test dummy in the driver's seat.
The new push in Congress to mandate countermeasures to the problem of side underride crashes is also based on recent vehicle to tractor-trailer crash statistics. In 2015, of the 1542 passenger vehicle occupants to lose their lives into vehicle crashes with a tractor-trailer, 301 died when their vehicle collided with the side of the trailer. Comparatively, 292 people died when their vehicle impacted the rear of the trailer. IIHS researchers estimate that underride occurs in approximately half of these fatal crashes.
In light of IIHS's testing, David Zuby, the Institutes executive VP and chief research officer stated, "We think a mandate for side underride guards on large trucks has merit, especially as crash deaths continue to rise on our roads."
Accidents involving a truck and passenger vehicle can be tragic, both in terms of human life and property damage. If you have suffered loss, physically or otherwise, due to an impact with a large truck or tractor-trailer, our team of Atlanta truck accident lawyers at Harris Lowry Manton LLP are here to help you. We work diligently to obtain highly favorable outcomes for our clients. Call us at 404-961-7650 (Atlanta office) or 912-651-9967 (Savannah office), or fill out our contact form to request a free, initial consultation.
Harris Lowry Manton LLP is a dedicated full-service trial law firm. Our Georgia personal injury lawyers fight for the injured throughout every step of the legal process. We explain how litigation works from the moment you come into one of our offices in Atlanta or Savannah until your case is solved. Our legal team has achieved remarkable success because we leave no stone unturned when investigating our client' claims and what should have been done to prevent their injuries. We file claims against all responsible parties — not just the most obvious one.
Read more about Harris Lowry Manton LLP.