Three Dead after Fiery Crash at the GA-49 Bypass in Central Georgia
A horrific collision at the intersection of the GA-49 Bypass and Woolfolk Road in Fort Valley, Georgia has left three families in mourning, and a community reeling from the loss.
On Saturday, March 30, Fort Valley State University students Precious Waters, 19, and Kearsten Robinson, 19, were traveling on Woolfolk Road at around 10:00 p.m. Georgia Harris, 55, was driving her tractor-trailer down GA-49. The two vehicles collided and a fuel tank ruptured, causing both vehicles to catch fire. All three women were killed.
Georgia State Patrol (GSP) is still investigating the cause of the crash. No report has been issued yet.
A deadly collision at a deadly intersection
While no information has been released about what caused the truck to hit the car, there is one thing we know: the intersection of GA-49 and Woolfolk is a dangerous one. WGXA spoke with the Peach County Sheriff's Office; there have been 25 accidents at this intersection since 2016. The crash involving these three women was the first fatal collision, but 14 people have been injured in crashes here in the last few years.
According to WGXA, "Deputies say they're requesting [Georgia Department of Transportation] GDOT to look into the intersection and consider the accidents — and then possibly add a stop light or other safety measures to slow traffic." Peach County Sheriff Terry Deese told the news outlet that the Sheriff's Office plans to collect whatever data is needed to submit to GDOT, in the hopes of having a study done.
A study is certainly needed. This is an overhead picture of the intersection: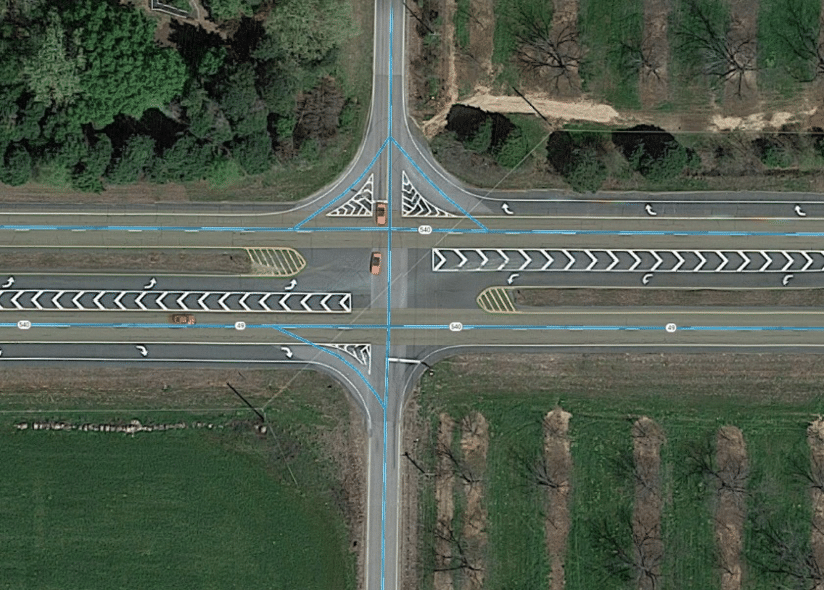 There are no streetlights and no traffic lights, and very little ambient light would filter from the Fort Valley Shopping Center on Woolfolk after dark. As you can see, drivers trying to cross GA-49 and the Fall Line Fallway have to "wait it out," so to speak, in the middle of an intersection with multiple turning lanes.
As catastrophic injury attorneys, we know all too well how dangerous these types of intersections are. Harris Lowry Manton LLP has seen the devastation first-hand, and has represented clients who have been injured in car crashes and truck accidents on unsafe roads just like these.
We also know the dangers of fuel-fed fires, and how often fuel tanks rupture in a collision. Tank placement, lack of guarding, and hostile environment (like sharp parts around the tank) can all cause a tank to rupture, and it is important to have investigators and experts look at the cause as soon as possible to determine what caused the fire. That is why we are always prepared to send a team out quickly for an investigation, in the event of a car or truck fire.
Saturday night's fatal truck accident is a tragedy, and our hearts go out to all three families, the students of Fort Valley State University, and the community. We hope they find peace in the days to come, and that the GSP and GDOT issue their reports soon, so the families can have some closure.
Harris Lowry Manton LLP is a Georgia injury firm representing clients in Atlanta, Savannah, and throughout the state. To speak with an experienced truck accident attorney, please complete our contact form or call us today: 404-961-7650 in Atlanta, or 912-651-9967 in Savannah.