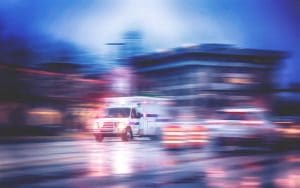 An Uber vehicle was hit by a semi-truck on Thursday night, around 9:30 p.m., in northwest Atlanta. According to the Atlanta Journal-Constitution, police say the Uber driver, 29-year-old Aaron Ragins, ran a red light, and the truck hit the passenger side of the car. The passenger died as a result of the crash, and the Uber driver sustained injuries. Charges are now pending against the Uber driver. The company has not confirmed whether or not the driver was on the clock at the time of the fatal collision.
This is the second fatal Uber accident in Georgia in less than a year. Last April, an Uber driver suffered a medical emergency and crashed into a utility pole, injuring one passenger and killing another.
Are Uber and Lyft increasing the number of fatal car accidents?
Uber and Lyft launched almost 10 years ago. Before the companies started expanding, Business Insider reports, "the total number of traffic fatalities sank to 32,885 nationwide, the lowest number since 1949, according to government data. But once Uber and Lyft began aggressively expanding, the authors of a yet-to-be-published study have found, those fatal accidents began to slowly rise once again."
According to researchers from the University of Chicago and Rice University, a 2-3% increase in fatal car wrecks is associated with ridesharing companies entering local markets. Their current belief, based on the data, is that the rate of fatal accidents increases because of the extra miles rideshare drivers travel between dropping off one fare and picking up another. In other words, because Uber and Lyft drivers spend more time driving around on the road, their opportunity to get into an accident would, necessarily, increase.
What happens after a car crash involving Uber or Lyft?
If you are a passenger in an Uber or Lyft vehicle, and you are injured in a collision (with another vehicle or with a stationary object), you can make a claim for damages from the company. Thanks to legislation Governor Deal signed in 2016, Uber and Lyft are required to carry $1 million in insurance coverage to protect passengers for the duration of their ride. If you are hit by an Uber or Lyft car, you are still protected; the companies must carry $300,000 in insurance coverage for bodily injury or death, and $50,000 for property damage, so long as the driver is logged into the app. If the driver is an employee of the rideshare company, instead of an independent contractor, there could be even more insurance available to cover catastrophic injuries or death.
If you are hit by a driver who is not logged in, however, then neither Uber nor Lyft can be held liable. In the event of a collision, you would need to make your claim through the driver's personal insurance, or through your own UM/UIM coverage if the driver does not have enough insurance to cover your injuries.
Rideshare companies often try to limit their responsibility by arguing that the driver was an independent contractor instead of an employee, or that the driver was not really driving for them at the time of the crash. The lawyers of Harris Lowry Manton LLP are experienced at uncovering the facts and finding out how much insurance coverage is really available to cover their clients' claims.
Uber and Lyft may make our lives easier, but they may be putting all of us at greater risk of injury. If you were injured in a car wreck with an Uber or Lyft vehicle, contact Harris Lowry Manton LLP today. Our car accident attorneys in Atlanta and Savannah can help. For a free consultation, please call 404-998-8847 in Atlanta or 912-417-3774 in Savannah, or complete our contact form.