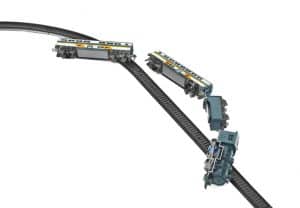 At 2:35 a.m. on Sunday, February 4th, Amtrak suffered its third fatal train crash in three months. The investigation is still ongoing, but as of now, it appears that that signaling system was malfunctioning, and the switch – which directs trains to use one track or another – was in the wrong position. The Amtrak train was manually directed into a corridor where there was another parked train. The collision led to catastrophic damage to both trains.
According to the New York Times, the parked train belonged to CSX. The train tracks are owned and operated by CSX. The order to direct the Amtrak train into the corridor was given by CSX dispatchers. The switches and signals were controlled by CSX.
Now, two people are dead – including an engineer from Savannah – and 116 sustained injuries. The damage to the locomotives of both trains was so severe, the Washington Post reports, "that investigators have been unable to recover the event data recorders from either train in part because of the extent of the damage." Investigators were able to recover footage from the front-facing video camera on the Amtrak train, however, which could show them exactly what happened in the moments leading up to the collision.
Robert L. Sumwalt, chairman of the National Transportation Safety Board ("NTSB"), "ruled out foul play and said investigators initially believed that a switch has been manually thrown and then padlocked," per the New York Times.
CSX Transportation has a history of making poor decisions
While Amtrak may be the focus of the news, CSX Transportation has much to explain. This is hardly the first time that poor decisions made by CSX have led to tragic deaths.
In July of 2017, our firm secured an $11.2 million verdict on behalf of the family of Sarah Elizabeth Jones, who lost her life when a CSX train crashed into a filming crew near Jesup, Georgia. Right before the fatal collision, two other CSX trains went through the area; neither of the operators of those trains alerted dispatchers that there were people filming on or near the tracks, which was required CSX's policies and procedures.
When the third train came through, it hit a hospital bed (which was being used as a prop) on the tracks. The impact was severe enough to injure six people, and Ms. Jones lost her life. During trial, partner Jeff Harris revealed to the jury that the train operator did not hit the brakes until after the collision.
At Harris Lowry Manton LLP, we refuse to back down when we seek justice for our clients. That is why we are the law firm Georgia trusts to tackle complex litigation claims involving national companies like Amtrak and CSX. To learn more about our services, or to speak with an experienced train crash injury lawyer, please call our Atlanta office at 404.998.8847, our Savannah office at 912.417.3774, or fill out our contact form.
Related Mass Transit Accident Articles