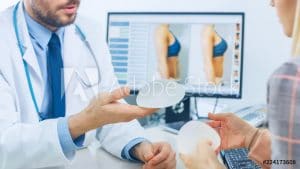 Although it acknowledged the risk of a link between textured breast implants and a rare type of lymphoma, the U.S. Food and Drug Administration (FDA) recently announced it would still allow the implants to be sold in the United States – even after the implants have been banned in several other countries.
According to a statement released on May 2, 2019, the FDA concluded that while there are numerous reports linking textured breast implants with cancer, the risk was not high enough to justify taking the implants off the U.S. market. This news comes only one month after reports that France, Canada and the Netherlands have all suspended or banned sales of textured breast implants.
A recent New York Times article explains that these types of implants, "which have a textured or slightly roughened surface, as opposed to a smooth covering, have been associated with a cancer of the immune system called anaplastic large-cell lymphoma." The majority of these cases of lymphoma (also called ALCL) have happened in women with implants made by the company Allergan.
Although the FDA says there is not enough data to justify banning the implants, it does caution that "women considering a breast implant should be aware of these risks." The agency is considering a black box warning – although, as of yet, it has not announced plans to implement one – so doctors are required to go over a checklist of implant risks with patients as part of informed consent.
Patient advocate Jamee Cook told the Times that although she is disappointed the FDA hasn't banned textured implants, she hopes increased warnings will help patients make more informed decisions about their breast implants:
"There is information in the manufacturer's pamphlet, but it is 40 or 60 pages long. Pulling it all together on a piece of paper that the patient has to actually sit here and read and check off all these boxes, and then, if she still wants those implants, power to her, that's her decision as a patient. But we want them to have all that data readily available before making the decision."
Breast implants and cancer
Patients choosing breast augmentation surgery have many types of implants from which to choose – saline, structured saline, silicone, smooth or textured. Textured implants are designed to form scar tissue around the implant, making it stick to the surface, which in turn makes the implants less likely to move around. Textured breast implants also decrease the risk of side effects that can result in hard or unnatural looking breasts.
Despite these attributes, France, Canada and the Netherlands halted sales of the implant after studies on breast implant-associated anaplastic large cell lymphoma (BIA ALCL) revealed the increased risk. This is a rare cancer that forms within the scar tissue around the breast implant. While breast cancer affects the tissue of the breast, BIA ALCL primarily affects the scar tissue only, but can spread to the lymph nodes if left untreated.
According to FDA estimates, approximately 457 women have been diagnosed with BIA ALCL, with nine dying from the disease. The agency says it will continue to monitor adverse effects from this and other defective medical devices.
Talk to the experienced and compassionate product liability attorneys at Harris Lowry Manton LLP when you've been injured or harmed by a defective medical device. We can help. Schedule a consultation at 404-998-8847 at our Atlanta office, in Savannah at 912.417.3774, or fill out our contact form.