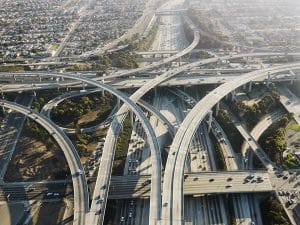 At least eight vehicles – four of them tractor-trailers – are involved in a DeKalb County crash that has shut down all lanes of I-285 North. AJC.com reports "the [WSB-TV 2] Traffic Center helicopter saw someone being extricated from a vehicle and put onto a stretcher." According to WSB's latest update, "NewsChopper 2 over the scene shows several fire trucks, ambulances and police cars spread across all lanes of traffic. Crews were working to free at least one person trapped inside a vehicle. DeKalb County fire said one patient is in critical condition. They have not said how many people in total were involved in the crash."
The wreck happened around 3:00 p.m. today. No information has been released yet over what caused the accident.
I-285 is a dangerous highway
In 2015, AJC.com reported that I-285 was the most dangerous highway in Georgia, averaging "3.5 fatal crashes every 10 miles in 2013." While the specific numbers are a little older, the problems cited then remain: multiple tractor-trailers, commuters and out-of-state drivers all trying to avoid the gridlocked traffic on 75 and 85 (both known for the number of fatal car accidents they see each year).
This time of the year may prove even more dangerous. With the holiday season upon us, the number of trucks on the road necessarily increases. According to American Trucker, delivery fleets account for about 10% of all the extra vehicles on the road. Combine these extra vehicles with inclement weather, shorter daylight hours, and the increased stress of the holiday season – as well as the finding that "More than half of trucks in highway accidents were found to have at least one vehicle defect; 30% of these crashes were caused by equipment failure including brakes, tires, lights, transmission failure, or vehicle overload" – and the chances of getting into an accident with a large truck appear to be much higher.
I was injured in a collision with a truck; what do I do?
Truck accidents are some of the most serious collisions there are. The large size of the truck, coupled with its slower braking time, often lead to more forceful impacts with passengers' cars. These wrecks can cause permanent injuries or disability, or may be fatal.
If you were injured in a wreck involving a tractor-trailer, you want an experienced injury lawyer on your side. Harris Lowry Manton LLP has secured millions of dollars on behalf of Georgia truck accident victims. If your injury was caused by a driver's negligent actions, as part of chain-reaction crash, by a defective truck or auto part, or for any reason at all, we will fight for your best interests at ever step. If you are not offered a fair settlement, we will represent you in court, and fight the insurance company to ensure that you and your family are safe and secure.
If you or your loved one was hurt in a crash with a tractor-trailer or commercial vehicle, we want to help. Please call Harris Lowry Manton LLP in Atlanta today at 404.998.8847, in Savannah at 912.417.3774, or complete our contact form to schedule a free consultation.