Have You Subscribed to the Great Trials Podcast Yet?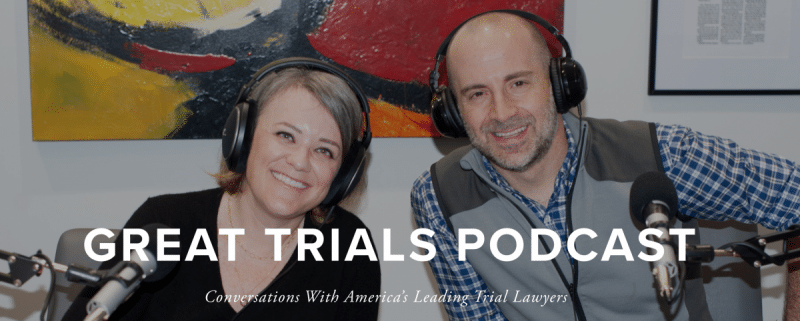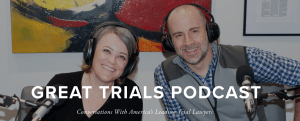 If television and films tell us anything, it is that people are fascinated by the jury trial process. For example:
The television show "Law & Order" ran for 20 years.
There are dozens of daytime court shows on TV.
Julia Roberts won an Oscar for her work in Erin Brockovich.
To Kill a Mockingbird is getting rave reviews on Broadway right now, and the adaptation focuses heavily on the pivotal trial scene.
This is a small sampling, but it speaks to the point that the average American is fascinated by our justice system. The truth is, however, that while some stories tend to capture the public's eye – O.J. Simpson, Larry Nassar, Ted Bundy and Casey Anthony, to name a few – there are extraordinary trial lawyers around the country fighting on behalf of clients every day who may not get as much attention.
That is what the Great Trials Podcast aims to do, offering an in-depth, laid-back "behind the scenes" look at some of the greatest trials in our country's recent history. Since its inception in January 2019, hosts Steve Lowry and Yvonne Godfrey – who are both successful trial lawyers at Harris Lowry Manton LLP — have sat down each week with some of the most effective trial lawyers in the country, analyzing cases and verdicts that, in many circumstances, garnered national attention. As the Daily Report recently reported:
"Godfrey said she and Lowry approach their interviews differently. Lowry wants to know nuts-and-bolts questions like how other lawyers handle voir dire, how long jury selection lasted, how to deal with apportionment of responsibility questions, what sort of exhibits or illustrations other lawyers use in making their cases, 'all the hurdles' they faced. Godfrey said she is interested in lawyers' individual styles, how they relate to a jury, who their mentors were."
About the hosts
Steve Lowry, an award-winning trial attorney and two-time inductee in the Georgia Verdicts Hall of Fame, has been honored by the American Association of Justice with the F. Scott Baldwin Award for Most Outstanding Trial Lawyer of the Year and recognized three times as a Georgia Super Lawyers Top 100 attorney. He has secured a number of Top 10 jury verdicts in Georgia, including a $43.5 million jury verdict in Terhune v. Forum Group Corp et al., the state's largest judgment on record against a nursing home facility; a $40 million jury verdict for Jenkins v. Lambert, Georgia's top jury verdict for 2016; and a $11.5 million verdict for Bilbrey v. United States of America, one of the biggest verdicts ever secured against the United States government.
Yvonne Godfrey is an accomplished attorney who practices in the areas of product liability, personal injury, wrongful death and whistleblower litigation. Honored as a Georgia Super Lawyer Rising Star, she played a key role in a number of major trials, including the Sarah Jones wrongful death case, which resulted in a $11.2 million jury verdict and inspired major safety improvements in the film industry. Yvonne currently serves on the Young Alumni Committee for the University of Georgia School of Law and on various committees for the Georgia Trial Lawyers Association.
How to listen
The Great Trials Podcast is offered on multiple platforms:
You can also listen directly from the Great Trials Podcast website.
Whether you work in the legal field, are an avid trial-watcher, or just want to learn more about how the justice system works in our country, we'll hope you subscribe to the Great Trials Podcast, and join Steve, Yvonne, and their guests each week.
(Missed an episode? Don't worry! You can find all of the episodes of the great Trials Podcast online.)