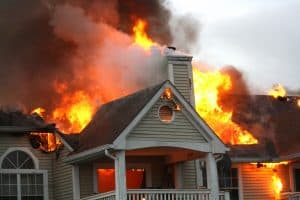 On June 12, 2018 a home exploded in Roswell, Ga., in Fulton County. The source of the explosion was a gas leak from the dryer. Brendon Morton, Pat Sammons, and Win Reid, who lived in the house, all made it out alive, but Sammons and Morton "were taken to Grady Memorial Hospital with burns on more than 60 percent of their bodies," according to a report by the Atlanta Journal-Constitution.
AJC.com cited Channel 2 Action News as reporting that the men smelled something "moldy" coming from the area of a dryer, and they lit a candle to "freshen the air." The flame from the candle interacted with the gas in the air, causing an explosion.
After an investigation, the Roswell Fire Department Fire Marshall's Office reported that the cause of the explosion was a "natural gas leak from a clothes dryer." Where that leak came from – leaky pipes, a defective dryer, a faulty hose – has yet to be determined.
Gas leaks and explosions: what homeowners should know
Your best defense against a potential gas leak is your nose. If you enter your home and smell something akin to rotten eggs or mold, you should exit your home immediately and dial 9-1-1. Even turning on the lights can cause a spark that could cause an explosion. You should also call the gas company as soon as possible.
A number of different things can potentially lead to a gas leak. You might have a defective appliance or heater, which is a common cause of structural fires. If you have older gas pipes, they can erode away over time, or sustain damage if you're doing any type of work near the lines, like installing a pool or a new cable service. Hoses can slip off or wear away, gas can caps can become looser and lines can crack.
Therefore, it is a smart idea to double check what you can, when you can, to ensure that your home is safe. Make sure all hoses and wires are attached and in good working order, and that you store generators outside of the home. If you suddenly start having difficulties with your stove or oven, call a repairman. These small changes may help protect you and your home.
How burn injuries are categorized
Burn injuries fall into four categories, based on their severity:
First-degree burns. First-degree burns affect only the outermost layer of skin. They are the least severe – the type you might get touching a hot iron or stove.
Second-degree burns. Second-degree burns penetrated to the second layer of skin. They often cause swelling and blisters.
Third-degree burns. Third-degree burns permeate all layers of skin, and may be dry to the touch. They may lead to permanent scarring, and can cause nerve damage.
Fourth-degree burns. A fourth-degree burn may prove fatal, because it not only damages the skin and tissues; it can actually damage the bone. This type of burn could lead to amputations.
A more-severe burn may need to be treated at a burn injury center. In Georgia, we have two such Centers: Joseph M. Still, in Augusta, and Grady Memorial Hospital, in Atlanta.
At Harris Lowry Manton LLP, we are dedicated trial attorneys who routinely handle complex product liability claims on behalf of Georgia injury victims. If a defective product caused your burn injuries, head injuries, spinal injuries or other types of harm, we want to help. To arrange a no-obligation consultation, call us at 404-998-8847 at our Atlanta office, or in Savannah at 912-417-3774, or fill out our contact form right away.