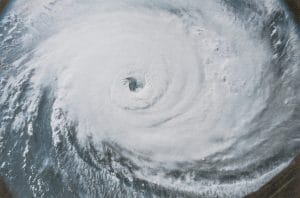 Hurricane Florence, which rolled through the Carolinas and Virginia in mid-September 2018, left in its wake tremendous costs – both financially and emotionally. One estimate places the total property damage in these states at roughly $19 billion to $28.5 billion.
As of this writing, Hurricane Michael is making its way up the Yucatan Peninsula, and is poised to make landfall mid-week. Florida Governor Rick Scott has already declared a State of Emergency for multiple counties, and the storm is expected to impact the Gulf Coast, an area still dealing with the fallout from Hurricane Harvey.
Georgia managed to avoid the damage of Harvey, but its residents remember Hurricanes Irma and Matthew – and at least one news report says Georgia could be in the path of Michael as well. Early estimates give Michael the potential of a Category 3: less severe than Harvey (Cat 4), but more severe than Florence (Cat 2), upon impact. If the storm does pass through Georgia, Georgians may be faced with some of the same dangers and damage that their neighbors have faced over the last couple of years.
Flooding is a major concern
Flooding remains a severe problem throughout both North and South Carolina after Florence, even now. In South Carolina, as recently as September 27, the state's Emergency Management Department restricted travel to Georgetown and Horry Counties as a result of persistent, severe flooding from swollen rivers. Portions of North Carolina received more than two feet of rain as a result of Florence, while parts of Georgetown County, South Carolina were inundated with more than a foot of rain.
In addition to the flooding, residents of the Carolinas have had to deal with scattered debris and fallen trees. This, of course, took down power lines and made roads inaccessible not only to residents, but to emergency and utility workers. Dangers such as downed power lines and unstable structures pose significant risk of personal injury and even death to unsuspecting residents in the aftermath of a hurricane.
Unwanted creatures come with the flooding
Rats, mice and other small vermin tend to make their homes in places ravaged by storms. Once they come into a home, they multiple quickly, and getting rid of them contributes to the costs of rebuilding. However, it is the mosquitoes that are the immediate concern. Mosquitoes are attracted to large areas of water. When hurricanes cause flooding, which in turn leads to large bodies of stagnant water, these pests appear and multiply rapidly. There are reports that residents of North Carolina are seeing some of the biggest mosquitoes ever witnessed in the region.
Such an increase in the population of mosquitoes has the potential to bring with it illnesses such as West Nile virus, encephalitis and Eastern equine encephalitis. North Carolina Governor Roy Cooper has directed $4 million be applied to mosquito control for counties impacted by Hurricane Florence.
The floodwaters themselves can also be filled with pollutants, bacteria and viruses. According to the North Carolina Coastal Federation, residents should avoid contaminated coastal waters due to the risk of acquiring infections and other maladies, such as skin rashes, hepatitis, respiratory problems and earaches.
We want you to be safe
As of this writing, the approaching storm predictions for Georgia are not yet severe – but we could be in for a rough ride. If Hurricane Michael keeps to its path, areas like Thomasville or Blakely could see similar flooding (and the same aftermath) as the Carolinas are experiencing now.
We want all Georgians to be prepared in case we get hit with the storm. Make sure to have plenty of drinking water and batteries on hand, and if Governor Deal issues an evacuation of your county, make arrangements to leave. It is better to be safe than sorry.
At Harris Lowry Manton LLP, we are committed to protecting our clients and their rights. If you have been injured because of someone else's negligence, we want to help. For a free consultation, call us today at 404.998.8847 in Atlanta, or at 912.417.3774 in Savannah. You may also send us a message through our contact form.