Routine Cosmetic Surgery Leaves Woman with Devastating Brain Damage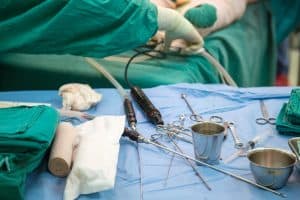 Even the most minor surgical procedure carries some risks. Brain damage, however, is not typically associated with cosmetic surgery. Sadly, a Georgia woman recently fell into the hands of a cosmetic surgeon whose services caused her permanent brain damage. The startling nature of the story is compounded by the fact that the cosmetic surgeon performing the work has a previous record of multiple medical malpractice allegations.
A woman's heart stops during cosmetic surgery
Georgia resident Icilma Cornelius was preparing for her wedding. The 54-year-old woman decided to get Botox injections and an additional anti-wrinkle treatment, and made an appointment at Dr. Windell Boutte's Lilburn-based cosmetic surgery and medical spa center. During the consultation, Cornelius was also persuaded to undergo liposuction surgery.
Approximately eight hours after the liposuction surgery began, Tech Times reports, Cornelius's heart stopped beating. Because this type of emergency was beyond the capabilities of the cosmetic surgery office, the staff called 911. When the paramedics arrived, they successfully restarted Cornelius's heart, but then faced significant delays actually getting her to the hospital for care. According to Tech Times, before the paramedics could leave, "Boutte and an employee had to suture Cornelius' skin to prevent infections on open incisions, and the stretcher had to be carried down the stairs because it did not fit the elevator."
Cornelius was transported by ambulance to the hospital, but by the time the ambulance arrived, it was too late: she had suffered from oxygen deprivation, which led to permanent brain damage.
Cornelius' 26-year-old son, Ojay Liburd, filed a medical malpractice lawsuit on behalf of his mother. According to a WSB-TV report, "During her procedure on Feb. 18, 2016, Cornelius was not intubated, and did not receive general anesthesia. She was given a cocktail of drugs, including Propofol and fentanyl. The lawsuit claimed no end-tidal CO2 monitoring equipment was used during the procedure. In deposition Boutte said staff contracted to administer anesthesia did not think end-tidal CO2 monitoring was necessary."
The surgeon's history of lawsuits and medical malpractice settlements
A review of the surgeon's history reveals that she has settled five prior medical malpractice lawsuits and has four lawsuits pending. Additionally, videos she made of herself dancing and singing while patients were exposed on the operating table have recently gone viral.
Cosmetic surgery hidden dangers
Although risks apply to every surgical procedure, those risks should not include surgeons who are improperly trained or facilities that are ill-equipped to handle the advertised procedures. Some of the potential dangers associated with a cosmetic surgery provider include:
Lack of training. Some surgeons who provide cosmetic procedures do not have board certification to perform such surgery. Others have minimal to zero formal training in cosmetic surgeries. The level of training among surgeons can vary which can make it difficult to evaluate the capabilities of the surgeon.
Insufficient regulations. Georgia has relatively sparse guidelines for surgeons desiring to perform cosmetic surgery. Often, the guidelines may only consist of recommending accreditation. According to a piece in the Atlanta Journal-Constitution, "In Georgia, doctors may set up an in-office cosmetic surgery shop and do all sorts of procedures. The medical board has safety guidelines for office-based surgeries, but they are guidelines, not rules…. [A] medical license allows a doctor to do almost any treatment or procedure that the doctor sees fit to undertake. Some doctors will take a weekend course on liposuction and then start offering it in an office setting."
Ill-equipped facilities. Medical facilities such as surgical centers and medical spas may not be equipped to handle certain medical emergencies. This can cause a critical delay in getting help to a patient in an emergency situation.
At Harris Lowry Manton LLP, our team has extensive experience helping victims of medical malpractice recovery the damages they are owed. We refused to back down from a fight when it comes to the rights of our clients. If you or someone you love has suffered a serious injury due to medical malpractice in Georgia, let us help you obtain the justice and compensation you deserve. To set up a free, no-obligation consultation with an attorney from our team, complete our contact form or call one of our convenient office locations – in Atlanta: 404-961-7650 or in Savannah: 912-651-9967.
Related Medical Malpractice Articles
One of the nation's top trial attorneys, Jeff Harris is an award-winning litigator who handles high-profile, complex cases across a wide variety of practice areas. He excels at securing justice for clients who have been seriously injured or killed, holding responsible parties accountable for their actions as well as their negligence.
Read more about Jeffrey R. Harris here.