I've Been Seriously Burned; What Are My Legal Rights in Georgia?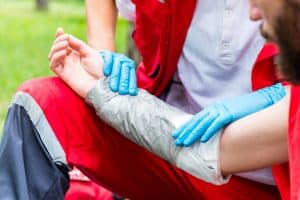 Severe burn injuries can produce not only excruciating pain, but also long-term disfigurement and disability. Burn injuries often require long-term medical treatment, rehabilitation, and sometimes several surgeries. Many types of accidents can precipitate serious burn injuries.
The According to the American Burn Association, in 2016 more than 486,000 people suffered burn injuries severe enough to require medical attention. Some 40,000 burn injury victims were hospitalized in the same year.
Common causes of burn injuries
When the burn accident involves the negligence of another party in some form, legal remedies are available to recover compensation for both physical and emotional harm suffered. Several common causes of burn injuries include the following:
Defective Products
Design or manufacturing flaws present in various kinds of products can present a fire risk. If you become injured from a fire resulting from a defective product, you may have the right to pursue a product liability claim against the people or entities involved in the production or distribution of the product. Manufacturers are required by law to provide adequate warnings and instructions to consumers for products that have an inherent fire risk. Some devices posing a particular risk of fire include space heaters, wood burning stoves, and devices operated with propane.
Car Crashes
Vehicle collisions on the roadway involving negligent driver can pose a serious risk of fire, explosion, and subsequent burn injuries. The damage from a car crash can initiate a gasoline leak which has the potential to ignite and produce devastating burn injuries.
Structural Fires
Substandard wiring in structures that fail to meet building code requirements can cause electrical fires that produce horrific burn injuries. Fires may also occur in the structure due to other reasons involving negligence, including unattended fireplace fires, smoking in bed, defective or damaged gas lines, just to name a few.
Industrial Accidents
Equipment and machinery operating within industrial or manufacturing settings may become the source of fires that cause severe burns. Other types of industrial burn can result from refinery fires and explosions.
Exposure to Chemicals
Fires and flames are not the only causes of burns. Chemical burns can occur in construction, industrial, and also residential settings. Exposure to certain household chemicals can precipitate severe burn injuries. Other burns can occur in workplace settings where dangerous chemicals are handled on a routine basis. Chemicals can certainly burn the skin, but they can also burn the muscle and bones underneath the skin as well.
Burn injury liability in Georgia
Negligence is a key factor to prove if your personal injury claim for compensation is to be awarded. Proving negligence requires proving several elements. You and your attorney need to show that:
The other party owed you a legal duty of care
That party failed to provide that care
The failure to provide that care caused your injury
If you are burned in a fire or explosion, and the fault lies with another party, there are several legal options available to recover compensation. The claims that may be pursued include:
Product Liability. More than one party may be held liable if you have experienced a burn injury because of a defective product. Possible negligent parties may include the designer, manufacturer, distributor, or retailer of a product. The defect in the product may be the product's design, the product's manufacturing process, or an error in the manufacturing of the product. The defect may also be how the product was marketed at a particular location.
Workplace Liability. As a worker injured on the job, you may be able to file a claim under Georgia's workers' compensation laws. Your right to recover benefits in the wake of a workplace injury you have suffered may exist regardless of whether your employer was at fault for the accident.
Third Party Liability. Depending on circumstances of the case, a manufacturer of a defective product used in the workplace or a subcontractor involved in the product's chain of production and distribution may be liable for your workplace burn injury. You may be able to pursue damages against the third-party in such cases.
Don't hesitate to get the legal help you need if you have suffered a severe burn injury in Georgia because of another person's negligence. You may have the right to recover compensation for your injuries and losses. At Harris Lowry Manton LLP, our burn attorneys in Atlanta and Savannah have the know-how and experience to advocate on your behalf effectively. To set up a free consultation, complete our contact form or call 404 -998-8847 (Atlanta office) or 912- 417- 3774 (Savannah office).
Related Burn Injury Articles
Harris Lowry Manton LLP is a dedicated full-service trial law firm. Our Georgia personal injury lawyers fight for the injured throughout every step of the legal process. We explain how litigation works from the moment you come into one of our offices in Atlanta or Savannah until your case is solved. Our legal team has achieved remarkable success because we leave no stone unturned when investigating our client' claims and what should have been done to prevent their injuries. We file claims against all responsible parties — not just the most obvious one.
Read more about Harris Lowry Manton LLP.