What You Should Know if You are Burned on a Construction Site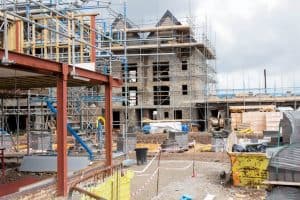 Construction sites can be dangerous places, which is why the Occupational Safety and Health Administration (OSHA) requires certain precautions to keep people safe. These rules apply to employees, but they also apply to site visitors, contractors, and the people who pass by construction sites.
One of the most common risks involve burn injuries. Aside from the chance of a fire or even an explosion, employees, contractors, and visitors to a construction location can sustain:
Thermal injuries. These injures are due to exposure to open flames, scalding liquids, flammable explosions, and hot glass or metal. Steam is another cause of thermal injuries.
Chemical injuries. Workers who come into contact with acidic compounds, alkali, or other dangerous chemicals suffer chemical burns that affect the skin. If the chemicals are swallowed, they can affect the internal organs, or lead to heart attack, dizziness, seizures, difficulty breathing, and other injuries.
Electrical injuries. Exposure to electrical current can cause death and electric shock. Electrical burns often cause extensive subdermal damage to tissues deep beneath the skin.
It is essential to get medical help immediately to identify the type of burn and the extent of the burn so the right treatments can be applied. Burn injuries can require multiple skin-graft surgeries, leave permanent scars, disable the worker so that he/she is unable to work, and can cause incredible searing pain. First-degree burns cause pain and redness. Second-degree burns cause loss of fluids and blisters. Third-degree burns can destroy nerve tissue and muscles. Radiological and chemical burns may require decontamination.
What leads to burn injuries on construction sites?
OSHA provides mandatory safety guidelines and regulations for specific types of dangers, such as use of and exposure to chemicals and electricity – but injuries do happen, and negligence is often the cause. A construction site worker or visitor can sustain a burn because of:
Soot and cinder inhalation
Exposure to scalding water
Heat from machinery
Exposure to live wires
Contact with power lines
Poor or insufficient lighting
Improper ground fault protection
Liability for construction site injuries
Injured parties may be able to recover damages through a personal injury claim or lawsuit against:
The employer under workers' compensation laws
Equipment manufacturers
Maintenance companies
Other third-party Contractors
If you suffered any type of burn injury or someone you loved died in a construction accident, our Savannah and Atlanta construction site burn injury lawyers can help. The experienced trial lawyers at Harris Lowry Manton LLP understand how burn injuries happen and who should be held accountable. We demand compensation for your pain and suffering, scarring, medical bills, disfigurement, wage loss, and other applicable damages. For help now, please call 912-651-9967 in Savannah, or 404-961-7650, in Atlanta, or complete our contact form. We handle burn injury cases on a contingency fee basis.
Related Burn Injury Articles
Harris Lowry Manton LLP is a dedicated full-service trial law firm. Our Georgia personal injury lawyers fight for the injured throughout every step of the legal process. We explain how litigation works from the moment you come into one of our offices in Atlanta or Savannah until your case is solved. Our legal team has achieved remarkable success because we leave no stone unturned when investigating our client' claims and what should have been done to prevent their injuries. We file claims against all responsible parties — not just the most obvious one.
Read more about Harris Lowry Manton LLP.