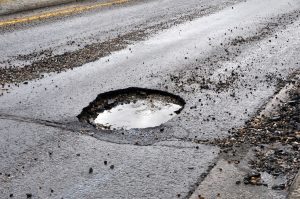 After winter is over, Georgia roads and highways can be left with potholes. Some get repaired and some simply languish, seemingly waiting to damage our cars. However, an unlikely beacon of hope has arrived to fix some of our crumbling roads—Domino's.
The pizza chain recently announced the launch of its "Paving for Pizza" campaign, in which the company will repair potholes in select cities across the country. And no, this isn't a joke—they're serious.
According to a press release from the company released on June 15, "Cracks, bumps, potholes and other road conditions can put good pizzas at risk after they leave the store. Now Domino's is hoping to help smooth the ride home for our freshly-made pizzas."
As of this writing, ConstructConnect.com reports that the delivery chain has repaired more than 200 potholes in four cities: Athens, GA; Bartonville, TX; Burbank, CA; and Milford, DE. To date, 150 potholes have been repaired in Athens – the most in any city. After repair, each pothole is emblazoned with the company logo and the words, "OH YES WE DID."
Domino's customers can nominate their towns for funding, too, by entering their zip codes at PavingForPizza.com.
Dangers of potholes
At first glance, though Domino's paving project may seem like a publicity stunt—and it is—the campaign calls attention to a growing infrastructure problem in America. We cannot rely on Domino's to fix our crumbling infrastructure, but we would be remiss not to point out how much of an impact the program has already had.
"Facing an already harsher winter than usual for Delaware, this is an opportunity to get additional money to stretch our city's limited resources," noted Eric Norenberg, City Manager of Milford, DE.
Potholes don't just create a bumpy ride for your pizza – they create risks for every driver, cyclist or motorcycle rider unfortunate enough to encounter one. Potholes damage vehicles, cause car accidents, and are a hazard to cyclists. Potholes are also a danger to autonomous vehicles, which may not recognize these small craters on the road.
The Domino's partnership with cities across the country may be a good branding opportunity, but it could also force other cities to examine the condition of their own roads and find other unique ways to fund needed repairs.
A "re-freshing" footnote
Although many are lauding Domino's for its efforts, the company is not the first fast food chain to attempt this kind of viral marketing. ConstructConnect.com reminded us that in 2009, Kentucky Fried Chicken's "Fresh Tastes Best" campaign provided funds for fixing potholes, too. They branded the potholes with the words, "RE-FRESHED BY KFC."
Our car accident attorneys want you to stay safe out on the roads. If you're involved in accident due to a pothole or someone else's negligence, the lawyers at Harris Lowry Manton LLP can help. Call us today at 404-998-8847 at our Atlanta office, or in Savannah at 912-417-3774, or fill out our contact form.