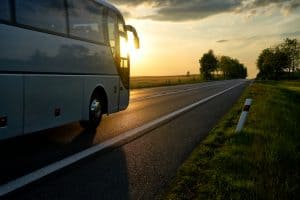 A trip to a golf tournament turned into a nightmare on Thursday, April 5, 2018, when a charter bus owned by Jet Executive Limousine, Inc. flipped over while traveling to the Masters Tournament in Augusta, Georgia. As of this time, nine people have been injured in the wreck; according to the Atlanta Journal-Constitution, five people are seriously injured, and two are listed in fair condition.
The bus was traveling down I-20, and was about 15 miles away from the tournament when the driver, per CBS News, "overcorrected," and the vehicle flipped over in the median. The driver has since been charged with DUI and failing to maintain lane. The highway was shut down in both directions, but the westbound lane has since reopened.
Who is liable in this type of bus crash?
When a vehicle like a bus, taxi or other common carrier is involved in a crash, determining liability can be a more challenging process.
The injured passengers may be able to make a claim against:
The driver. The bus driver has been charged with DUI, which will be handled in municipal court. However, because he was drunk at the time he was behind the wheel, the victims and their families should have a strong claim for damages in civil court, as his negligent behavior led to the bus flipping over.
The bus company. The employer, Jet Executive Limousine, Inc., could also be liable for the victims' injuries. Common carrier companies owe their patrons a duty of care. They are responsible for ensuring that their drivers are properly licensed, trained and supervised. If the company failed to ensure that the driver was sober before he drove, it could be found liable. The company could also be responsible if the tour bus itself was not properly maintained and fit for service
There is one last piece of the puzzle here – the overcorrection. No information has been released about what caused the driver to feel he needed to "correct" the tour bus. Was there debris in the road? Did an animal run out? Was there a problem with the bus? Was this response related to his being under the influence?
If the correction was the result of a defective bus part – for example, if the power steering malfunctioned or defective suspension springs threw the bus out of alignment – then the manufacturer of those parts could also be held responsible for the damages.
At this time, there is simply not enough information available to the public to determine the cause of the overcorrection.
All of us at Harris Lowry Manton LLP wish a safe and speedy recovery to those who were injured.
__________________________
Harris Lowry Manton LLP is a premier personal injury firm serving clients throughout Georgia. To learn more about our services, please fill out this contact form or call our offices: 404.998.8847 in Atlanta, and 912.417.3774 in Savannah.
Related Mass Transit Accident Articles